Nowsaday Google Adwords is an inevitable solution for Selling marketing and promoting products brand name. Thanks to its extremely useful utilities and benefits can attract those customers to click on the first position with 53% according to Google research about clicking percentage. The second position was 15%, the third was 9% and 6% for the fourth. The results following top 5 would be below 4%. This means that if you occupied one of 4 above positions, you would have an opportunity to approach your customers.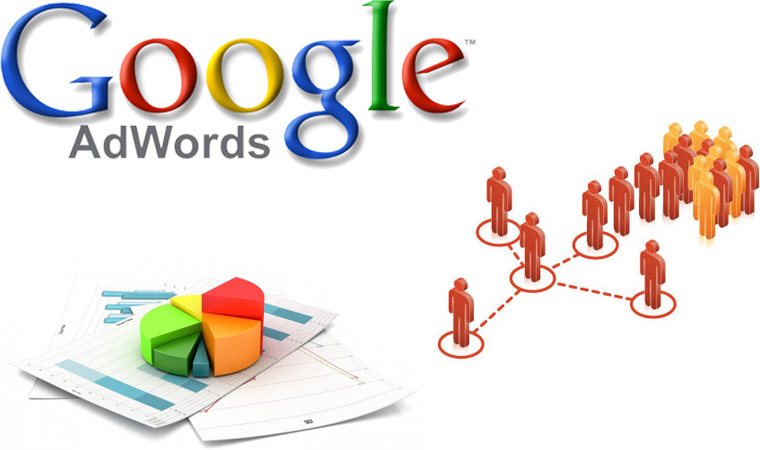 Ad types of Google Adwords
Google Search
This is the commercial pattern by using some key words under text format entered on Google Search tool. When a customer wants to search for something, all he needs to do is to type the key words he wants to look for on searching toolbar then related results will come up right below.
If you use Google Search type, the results will be shown at 4 positions on the top and 3 positions at the bottom of the page.
This is the type which are favoured by many people at the moment. However, there is one thing that cannot be denied that the other types are also effective. Instead of using only one commercial type by searching directly on Google search tool, we can combine with other types to increase sales and develop brand name successfully.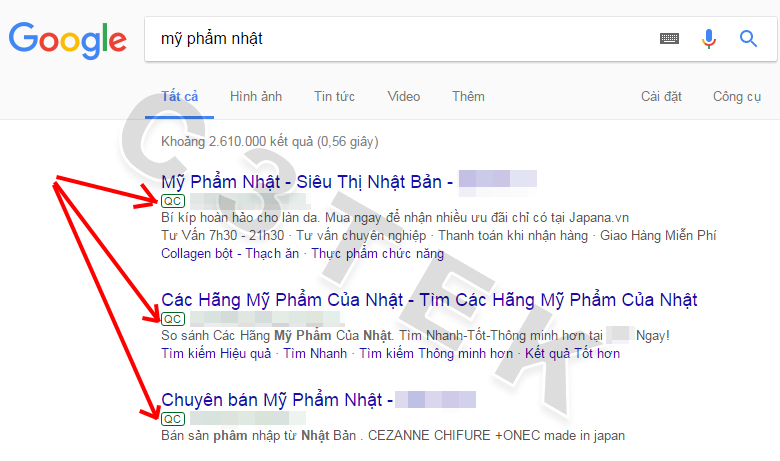 Google Display Network (GDN)
This is the way to advertise on Google by using Banner, promoting brand name articles on different websites. Some websites have been registered with Google such as: Zing, Youtube, Blogger, Gmail…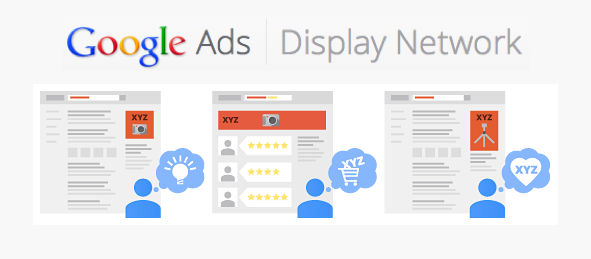 Quảng cáo Gmail Sponsored Promotions (GSP)
This is the way to advertise by showing Banner for Gmail users in Promotion tab. This pattern is effective to choosing suitable context, topic and favorite… helping sorting out potential customers. By maximising the friendliness to users, it never annoys to Gmail owner and appears in Spam box of Gmail.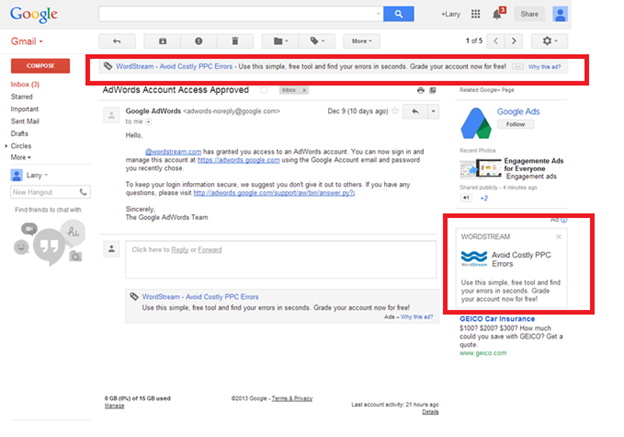 – You do not have time as well as a long -term strategic plan for the investments on SEO.
– You want to get the sales fast to be maintained, to be used for your new businesses, stores, or individuals.
– Your competitors are already very good at SEO. You do not have enough strength to compete with them.
– You do not have enough experience to do everything.
Google Adwords solution for your difficulties.
The great thing about Google Adwords
– Filtering customer objected.
Your ad will appear to consumers as they type in search terms related to your product or service.
– Optimizing budget usage
You only pay when someone clicks on your ad
– No minimum budget is required.
You can set a campaign cost of  a million VND today and you can adjust it accordingly tomorrow.
–

The result is quite high in comparison to the expense.
In order to avoid ineffective advertising as well as spread in advertising.
– Accessing to huge customer base.
According to statistics in Vietnam, people use Google to find information up to 90%, over 30 million internet users today and this number does not tend to decline.
– Google Adword Ads only appear 5 to 10 minutes after installing.
– High flexibility.
You can keep track on your Google adwords campaign anywhere, at any time.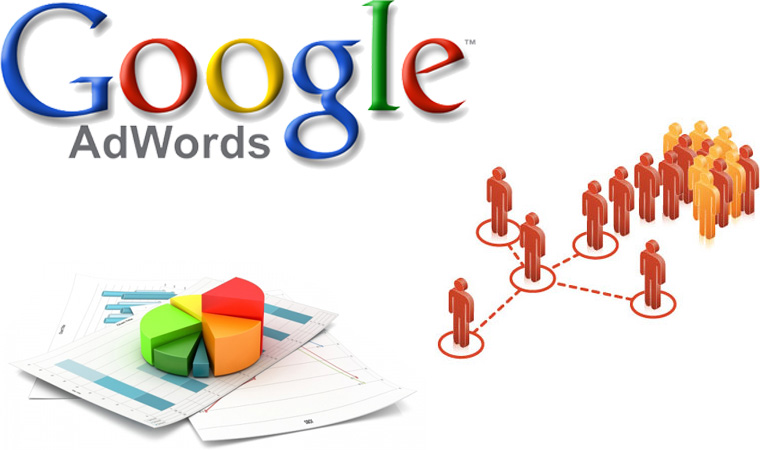 What you get as using C3TEK's Google Adwords service?
– A team of professional technicians who has many years of experience in Adwords for big projects. We would like to help you with everything that you need from A to Z. Not only helping you save a lot of time and money but also helping you figure out the best way.
– The procedure is very professional. Customers come into C3tek are welcomed and consulted in detail. We will receive customer information, research, consulting and we will give you the price. All processes are carried out in a certain process. This helps to make the price and stick to the needs of customers are most accurate.
–
The price is very reasonable, thanks to a through understanding of the information that the price of C3tek is always lower than the market price.
Our motto is 'your website is also my website'. We do everything for you as well as for ourselves. Don't hesitate to add more time, let us help you achieve all your purposes.
If you still have not had the website to run advertisement for your campaign, C3TEK's designing web service will give you some advice.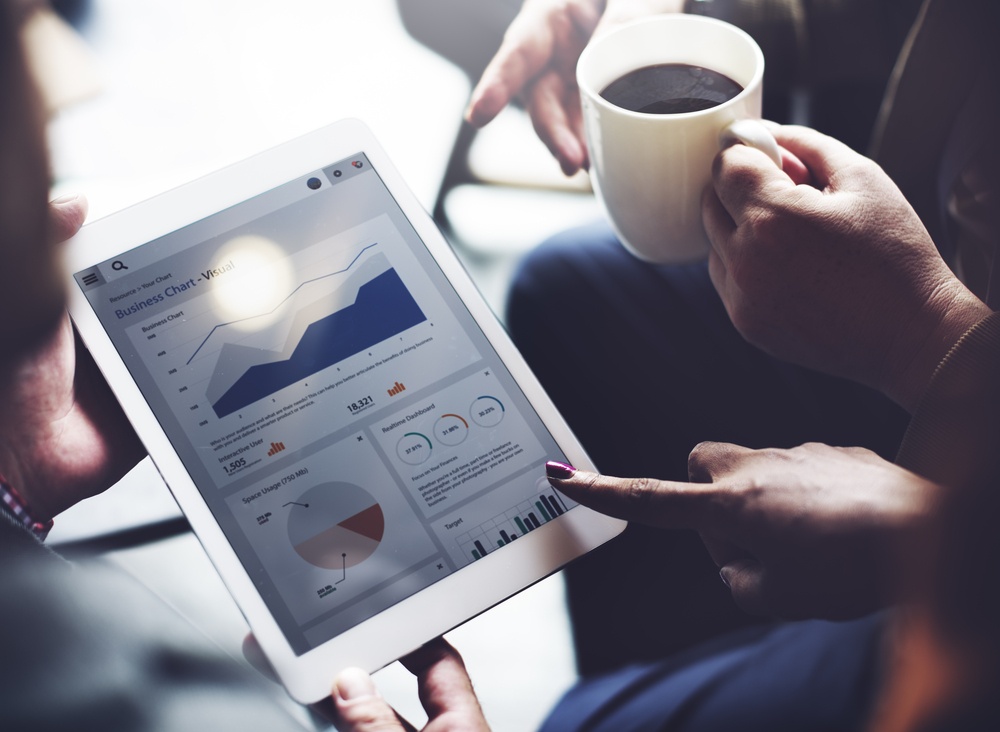 </p> <h3>Does Google Adwords have a single text format?</h3> <p>
Google not only has a form of text display but also other forms of display such as banner, video. These forms are also very effective.
</p> <h3>Who can sign up and create a Google Adwords account?</h3> <p>
All organizations and individuals can register themselves with Google Adwords account, if they can afford to pay. Nowadays, signing up for a Google Adwords account is no longer a difficult thing for everyone but to be able to run ads and display ads is not easy at all. Many people think that just putting money out then the result is going to be shown. This is wrong, we can get an example like this.
For example: There are 10 people run ads in an area, 10 people spend the same money. And Google Adwords only display 4 top position and 3 bottom positions of the page. It can not display 10 contractors on 7 positions.
</p> <h3>Why is ad not shown even though you bid higher for it?</h3> <p>
Google Adwords display is calculated by the formula:
 Adrank = Maximum bid price (maxCPC) x Quality Score.
max CPC is the highest bid you can pay for a click on the page.  But that's not all, it will depend on the quality score.
Google – a tool is established and developed according to the trend of users' experiences. This is the reason why your quality score will be counted like users' experience score. Therefore, the more you interact to users, the higher your opportunity to get points, which means that your visible ability will become better.
In order to get high quality score, it is required that the founder have deep knowledge about Google Awords principles as well as the experience in establishing Goodle Awords.
</p> <h3>Is it effective to advertise through Banner and Videos on display networking system of Google?</h3> <p>
The rule of advertising by Banner or Video is that your ads will be showed on the page website you are following if its content is corresponding to the targeting content of ads.
Example: An advertisement of electric bike is only displayed to the viewers watching page website correlating to electric bike.
Tips for you: If you do not have any experience or just a little but your working field has a high level of competition, you should hire a prestigious firm specializing in leasing Google Awords to support competing because they have lots of experience and professional staff who can fight against big competitors. If your field is less competitive and you have time researching, you can run it on your own.
Let us help you out of all your problems.
Let's come to C3tek – a place provides you with the top prestigious Marketing services – can support you anything you want.
Please contact us for further information and our best offer at:
Address: 3rd, 833 Lê Hồng Phong, Ward 12, District 10, HCM City
Working time: Monday – Saturday (8:30 AM – 5:30PM)
Tel: (+8428) 6680 4213
Email: [email protected]